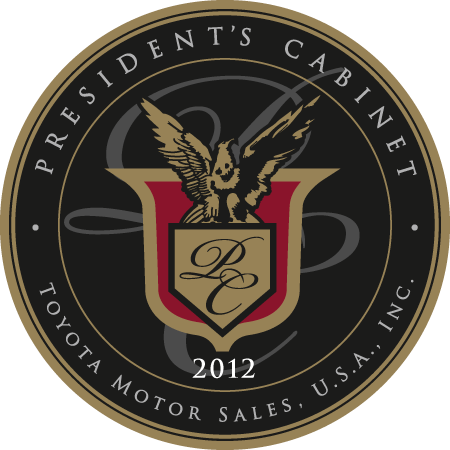 Toyota's coveted
President's Cabinet Award
for operationial superiority, high-volume sales,
and customer satisfaction.
A multiple winner of Toyota's coveted "Board of Governors" and "President's" Awards, Tustin Toyota has now been awarded Toyota's highest honor. The "President's Cabinet Award" is limited to a maximum of only twelve Toyota dealerships in the United States. The award is bestowed upon the elite of the elite, recognizing a combination of operational superiority, high-volume sales and, most importantly, outstanding customer satisfaction.
Tustin Toyota's General Manager, Mark Gittin, said, "We go out of our way to ensure our entire sales and service staff takes every opportunity to exceed our customer expectations. Toyota has high standards for excellence, and we aim to meet and exceed those standards. We are honored to receive the 'President's Cabinet Award'. It's public recognition of our commitment to these levels of service we provide and more importantly, a reminder to be respectful and welcoming to every customer. Without them and their loyalty, we are nothing."