New Beckman High grad wins car to go along with his diploma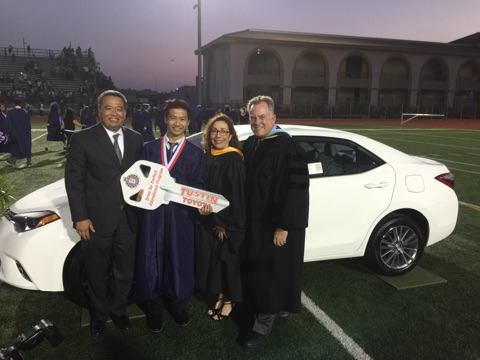 Wednesday was a big day for all Beckman High School seniors, as roughly 575 students graduated in an evening ceremony at Tustin High's Northrup Stadium.
But for graduate Felix Fung, the day was particularly thrilling - he won a 2015 Toyota Corolla for having perfect attendance over the past school year. He pumped his fists in the air when his name was announced for winning the raffle.
What's he going to do next?
"I'm gonna get my driver's license this month, then I'm gonna go on a long road trip," he said. "I'm going to get lots of chocolate and drive up the coast to San Francisco and meet my sister at Berkeley."
The car was donated by Tustin Toyota as part of the Drive for Perfect Attendance program. The program is in its second year, with Tustin Unified School District partnering with Tustin Toyota to boost student attendance.
Some 116 of the more than 1,800 seniors graduating this year from Tustin's four high schools - Beckman, Foothill, Hillview and Tustin - maintained perfect attendance during the school year, Sept. 3 through May 29. Numbers representing those eligible 116 students were placed into a lottery, and the winning number was drawn by Glenn Kashima, Tustin Toyota's parts and services director, at the Tustin Unified School District School Board meeting June 8.
Officials announced that the winning student was from Beckman High, but Fung didn't find out he had won until the graduation ceremony Wednesday evening.
Fung said he was sick once during the middle of the school year, but fought through it.
He plans to attend UCI in the fall, where he will study computer science.
Staff Photographer Bill Alkofer contributed to this report.
Contact the writer:
 

714-796-7963 or
BStaggs@OCRegister.com
------------------------------------------------------------------------------------------------------------------
Beckman's Erica Chou wins car at graduation for perfect attendance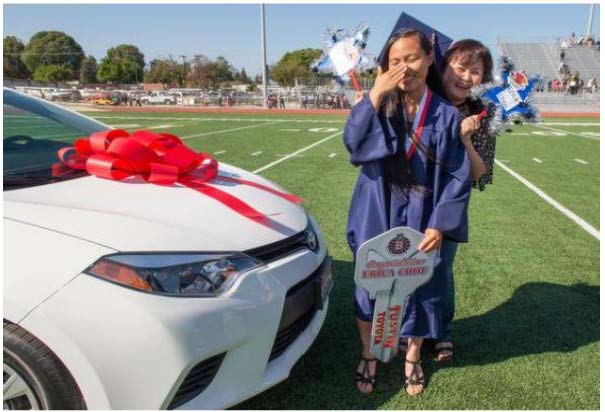 More than 150 seniors across Tustin Unified School District's four high schools were eligible for the "Drive for Perfect Attendance" program, which required that seniors have perfect attendance for the entire school year, about 180 days.
By Erica Chou's count, she has never missed a day of school - not even in kindergarten. It's only fitting, then, that the Irvine resident won a new 2014 Toyota Corolla at Beckman High School's graduation on Tuesday, a prize for her perfect attendance record in her senior year.
More than 150 seniors across Tustin Unified School District's four high schools were eligible for the "Drive for Perfect Attendance" program, which required that seniors have perfect attendance for the entire school year, about 180 days. The eligible seniors were entered into a lottery, and the winner was randomly drawn at the Tustin Unified Board of Education meeting on June 9. Tustin Toyota partnered with the school district to start the Drive for Perfect Attendance program this year in an effort to encourage attendance and good role models. About half of the eligible seniors came from Beckman, Principal Adele Heuer said during the ceremony, held at Northrup Stadium at Tustin High. In a similar program at Santa Ana Unified School District, Santa Ana High School senior Nicandra Lopez won a 2014 Chevrolet Sonic on June 7. Chou's mother, Mei, 44, teared up after the announcement. Leading up to graduation, Mei had a feeling Erica might win the contest. Holding on to that sliver of hope, she told her husband, Ricky, and Erica not to go car shopping, at least not yet. Mei's hunch paid off for her 17-year-old daughter, who has a learner's permit and is taking her driving test in July, after her birthday. Chou is bound for UC Riverside in the fall. For Tustin's seniors, the program "no doubt" encouraged attendance, said Grant Litfin, director of secondary education for the district. During the year, when seniors would go to the front office to clear excused absences, Litkin said, they would check: "I'm still eligible for the car, right?" Students had to have no absences and fewer than six period tardies to qualify. "Role modeling is really what this program is about," Litfin said. "Show up, be committed, dedicate yourself and you'll be rewarded." Tustin Toyota is continuing the program next year. Chou's car retails for close to $19,000, said Glenn Kashima, director of parts and services for Tustin Toyota. The first place Erica wants to go in her new ride? "Home," she said with a smile. Contact the writer: 714-796-2212 or kzhou@ocregister.com