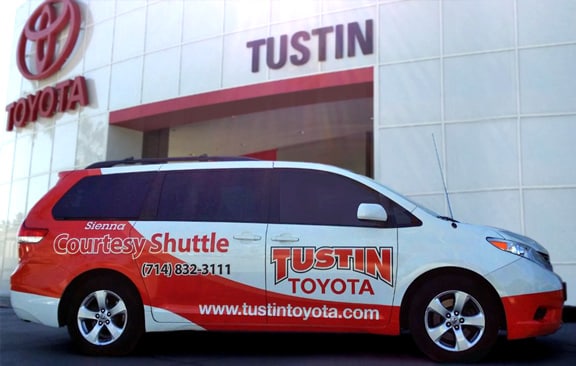 Complimentary Shuttle Service for your Convenience
Our shuttle is available to take your to your office, home, or the mall, within a
10 mile* radius from Tustin Toyota while your vehicle is being serviced.

SHUTTLE HOURS

Monday thru Friday 7:30 am - 4:30pm
Saturdays 7:30 am - 3:30 pm
Not Available Sundays

Scheduled Daily Departures:  7:30 am - 8:30 am - 9:30 am
After scheduled departures transports are available as necesssary.

*Due to extreme traffic conditions, the shuttle travels a maximum of
10 miles until 3:00 pm and a maximum of 5 miles after 3:00 pm

Drop-offs will be coordinated in order of closest location to the furthest location.
If a pick-up is necessary, please inform the shuttle coordinator as well as your
Service Advisor. Pick-ups are in accordance with the courtesy shuttle's availability.