Tustin Toyota Event's Team Hits the Streets to
Raise Money for Cancer
On July 11, Tustin Toyota Event's Team participated in MLB All-Star Charity 5K at Angel's Stadium. This event took place during MLB All-Star Weekend and 100 percent of proceeds went to dedicated cancer charities. This event was exciting as over 10,000 participants raced throughout Angels Stadium raising money for cancer. This event benefited the Prostate Cancer Foundation, City of Hope, Susan G. Komen and Stand Up to Cancer. With Celebrities and Baseball Hall-of-Famers, the day was full of excitement! The Tustin Toyota Event's Team had a wonderful time and it was a day to remember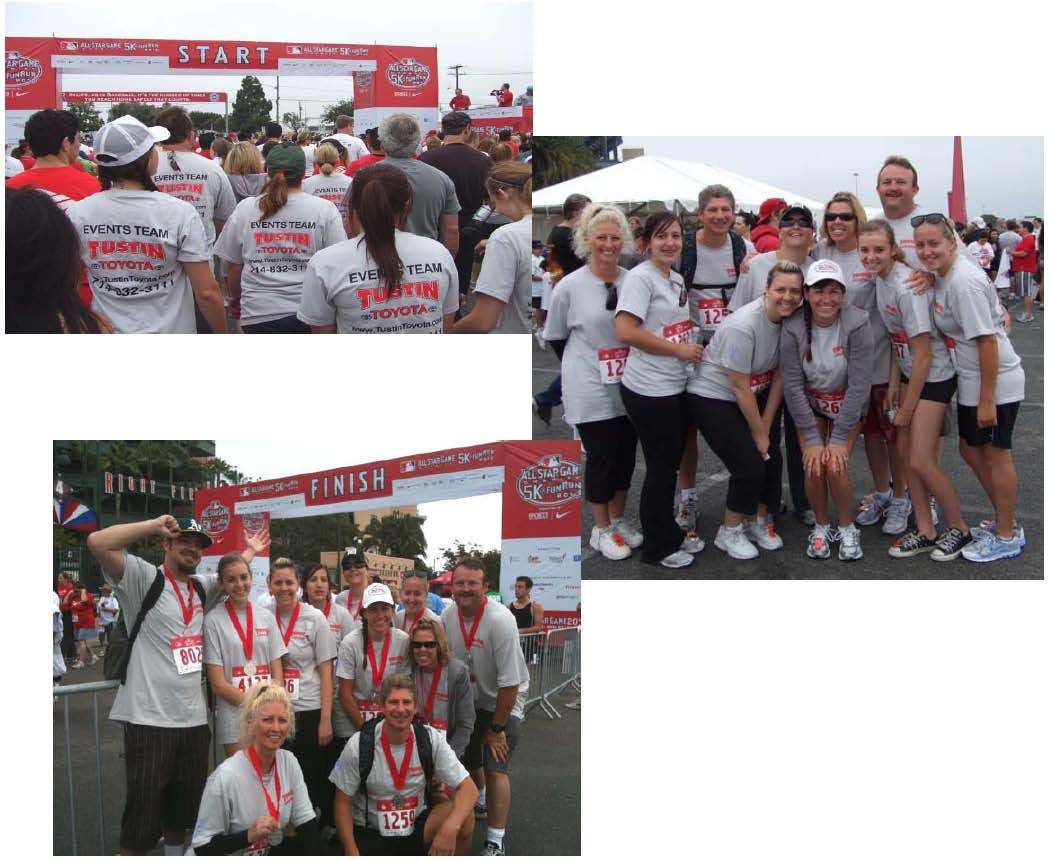 PRESS RELEASE - May 4, 2010
Orange County, California - The Manny Pacquiao Foundation and GOT
TOYOTA (Glendale or Tustin Toyota) announced this week that they have formed a partnership in a cause that's closest to the Champ's heart.
"This FIGHT's for You" (Ang Laban na Ito, Para Sa Iyo) is a program that aims to raise awareness, community partnerships and funding for the Manny Pacquiao Foundation and its anti-illiteracy programs.
Manny Pacquiao's Foundation focuses on education for the poor, deriving its mandate from the personal story of its founder Manny Pacquiao who dropped out of high school because of extreme poverty. PACMAN has since taken and passed a high school equivalency test in 2007, an experience that has driven the world's best pound for pound fighter to look back and give back to underprivileged Filipinos in the Philippines and in Filipino communities in the U.S.
"The growth of Manny Pacquiao into megastardom is nothing short of
remarkable," said Anton Mazur President of the Manny Pacquiao Foundation. "He recognizes that poverty and illiteracy go hand in hand. Giving children a shot at an education can give these kids a chance and an opportunity to make a better life for themselves and their families".
UNICEF estimates that there are 5 million Filipino children under 12 years of age driven to child labor and out of schools because of extreme poverty.
"We are proud to have been chosen by Manny Pacquiao as an official member of TEAM Pacquiao, especially in such a purposeful endeavor," said Harlan Gittin, who is General Manager and Partner at Glendale Toyota. "We are no strangers to the Filipino community, having helped thousands of Filipino customers who've become our friends over the years. We look forward to making new friends and customers, and partnering with our local community to help promote the success of 'This FIGHT's For You.'" GOT Toyota (Glendale Or Tustin Toyota) is perhaps the most recognizable auto retailer in the Los Angeles, thanks to its successful and long-running promotional campaign heard over KIIS-FM on Ryan Seacrest's Morning Show.
As Manny himself exclaimed, "May magandang track record sila sa pagiging top-notch sa customer service. Mahal pa nila ang mga Pilipino. Ganyang klaseng mga negosyante at mga tao ang choice ko".
The dealerships have long been known as "The Filipino Store", having provided the Filipino community with dedicated service and involvement for over a decade.
In addition to making donation drop off centers available at both stores, GOT Toyota stores are gearing up for "Manny Pacquiao Foundation Drives", where donations to the Foundation will be made for every new car that is sold between now and July 31st. Special awareness and fundraising projects are also being lined up in conjunction with the Manny Pacquiao Foundation events and programs.
Mark Gittin, General Manager of Tustin Toyota, is excited about the partnership. "Our new friendship and partnership with Mr. Pacquiao and the Manny Pacquiao Foundation is something that we value. We hope it will be the foundation of many endeavors that can have a major impact on underprivileged children right here in our local community and of course, in the Philippines. We encourage and invite our neighbors and friends in the Filipino community to support our joint cause - to let us help them with their car buying needs, so that we can help Manny's'Kids'".
Toyota of Glendale is located on 1260 S. Brand Blvd. in Glendale. Their Filipino Department is headed by Liza Avisado and Edwin Yu, and reachable directly by the Filipino Hotline: 866.522.5154.
Tustin Toyota is located at 44 Auto Center Drive in the Tustin Auto Center. Tustin Toyota's Filipino Department is headed by Joey Narvadez who can be reached by the Department Hotline: 888.306.9960.